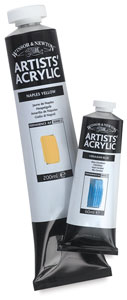 1.Acrylic Paints: Winsor & Newton Artist's Acrylics
W&N launched this range of acrylics in January 2009 to replace their Finity series. It is indeed a different product, having a longer working time (up to half an hour), minimal shift from wet to dry (because of a new binder), and a satin finish (rather than gloss). The tube labels have a painted color swatch rather than a printed one. 10 Finity colors have been discontinued and 17 new colors introduced.

I've found the longer working time removes the rush to blend colors before they dry, but isn't so long I'm twiddling my thumbs waiting for paint to dry (except on small-size paintings). The colors are rich, intense, and saturated, with a soft butter consistency that holds brushmarks.
Unrivalled in brilliance, Winsor & Newton's new line of Artists' Acrylics combines a revolutionary transparent binder that eliminates color shift from wet to dry with the highest-quality, maximum-strength pigments to ensure clean, strong colors with wonderful working properties.
Brilliance, defined as the richness, intensity and depth of a color, is possibly the most important quality of an acrylic paint. Consequently, in the development of Artists' Acrylics, Winsor & Newton combined its world-beating color-making experience to ensure an unrivalled brilliance and depth of color in the range. Brilliance does not mean the colors are garish. Rather, it pertains to clarity and purity of color, which should be evident when the color is applied straight from the tube as well as in the thinnest of films. Even the earths, blacks, and whites are clean and not dull.
Only the purest pigments are used in Artists' Acrylics, formulated individually to ensure the the cleanest, brightest, and strongest colors to give a wider choice and better color-mixing capabilities. Each individual formulation uses the maximum amount of pigment possible — without extenders — to produce a brilliant color with the broadest handling properties.
Until now acrylic paints have tended to darken in tone as they dry, making color-matching difficult from wet palette to dry canvas. Color shift is due to the binder changing from white to transparent as it dries. As the white emulsion dries within the color and becomes clear, the paint becomes more transparent and therefore darker.
Winsor & Newton's expertise in color-making and resin technology has resulted in a unique binder that is translucent when wet and dries clear — ensuring virtually no shift in color, and colors that remain as brilliant when dry as they are when wet. The result is a range that allows artists to match colors more easily from palette to canvas and see a painting as it will actually look when finished.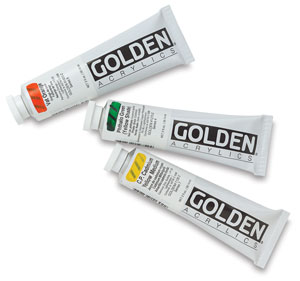 2.Acrylic Paints: Golden Artist Colors Heavy Body.
My long-term favorite brand of acrylic paint is Golden's Heavy Body acrylics. Golden is an American company created specifically to produce top-quality acrylic paints for artists. I love the range of vibrant colors, which includes an extremely useful set of neutral grays. The paint consistency is like smooth, soft butter, and it thins down for glazes easily, and dries rapidly. For serious impasto, you'll most likely want to add some medium (Golden produces a range of options, including gels and molding pastes)
Golden Heavy Body Artist Acrylics are known for their exceptionally smooth, thick, buttery consistency, and for their excellent permanency and lightfastness. These paints have the ability to "stand up" and retain brush strokes or palette knife marks on the canvas.
Heavy Body Artist Acrylics also contain the largest assortment of unique pure pigments in a 100% acrylic emulsion vehicle available to the professional artist. They contain no fillers, extenders, opacifiers, toners, or dyes.
Each Golden Heavy Body color is formulated differently depending upon the nature of the pigment. Colors that tolerate higher pigment loads dry to a more opaque, matte finish, while colors that are more reactive and do not accept high pigment loading dry to a glossy finish and tend to be more transparent. Since Heavy Body Acrylics contain no additives, such as matting agents, the gloss of each color will be different.
All Golden Heavy Body Acrylic colors are thixotropic in nature. This means that when brushing or stirring, the paints actually lose viscosity and feel much thinner. The faster the paints are moving, the thinner they feel. Returned to a state of rest, Golden Heavy Body Acrylic paints gradually increase in thickness until they are again restored to their formulated viscosity.
Golden Heavy Body Acrylics retain excellent flexibility when dry, greatly diminishing the possibility of cracking that occurs in other natural and synthetic polymer systems. They also can absorb the constant stress and strain placed on canvas when it is shipped, or as it expands and contracts with changes in temperature and humidity.
-
Some colors contain pigments, such as cadmium salts, that are toxic, and should be used only by persons who are old enough to follow instructions for safe use and clean-up. Cautionary labels and warnings should be followed strictly. Do not apply toxic colors with an airbrush or sprayer.
(Golden Heavy Body Acrylics were the first products introduced by Golden Artist Colors, Inc., in 1980. Initially, the Heavy Body line was sold directly to artists in Manhattan in quart and gallon containers. Pints, 8 oz, and 4 oz jars soon followed, as the products gained more and more popularity with professional artists. Tubes of Golden Heavy Body Acrylics finally appeared on the market in 1990.
In 1980, it was considered unusual to contain a heavy body, high-viscosity paint in a jar. Almost all of the literature written about acrylic paints at that time implied that jar colors were thin, and tube colors were thicker.
Actually, the first waterborne acrylic paint was thin, similar in consistency to house paint. Only after technological improvements allowing for thicker paint formulations occurred could artist acrylics be sold in tubes.
Since Golden got its start by directly supplying professional artists, the company provided Heavy Body Acrylics in larger-size containers. As Golden products became widely accessible, jars and tubes provided more size and packaging options for a growing group of artists with a variety of needs.)

3.Acrylic Paints: Liquitex.
I like Liquitex's Heavy Body Professional Artist Colors for the paint's consistency (quite buttery and 'sticky', so great for using with a knife) and because they come in 'plastic' tubes which are incredibly robust. (To be technically accurate, Liquitex comes in Glaminate, tubes made from laminated layers of plastic, metal, and paper.)
Liquitex Heavy Body Artist Acrylic Colors (previously called High Viscosity) are professional-quality acrylics that have an exceptionally smooth, thick, buttery consistency, ideal for traditional art techniques that employ brushes and painting knives, as well as experimental, mixed-media, collage, and printmaking applications.
A high pigment load produces rich, brilliant, permanent color, combined with good surface drag that provides excellent handling and blending characteristics with increased open working time. When used for thick and impasto applications and techniques, Liquitex Heavy Body Acrylics retain crisp brushstrokes and knife marks.
Liquitex Heavy Body Acrylics remain flexible when dry, and thick films remain free of cracks and chips over time.

4.Acrylic Paints: M. Graham & Co.
If you wanted an acrylic paint with a long working time, them M. Graham & Co's would be top of your list (working in a hot, dry climate, they give me about half an hour). But as I'm an impatient painter and I work mostly in glazes which I want to dry quickly, I don't need to extra working time very often. The colors are sumptuous -- very strong and saturated -- and blend together beautifully. If you were used to working in oils and wanted to swap to acrylics, this would be the brand to try.
(Only pure, high solid resins are used, with no fillers, retarders, opacifiers, or bulking agents. Each pigment is present in the highest concentration possible consistent with good working properties. This gives each color outstanding tinting strength and mass tone.)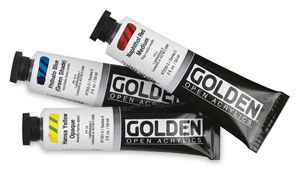 5.Acrylic Paints: Golden's Open Acrylics.
Launched in mid-2008, Golden's Open Acrylics have an extended drying time, making them the most comparable to oil paints amongst all acrylic paints. Open Acrylics stay workable on a normal palette for hours rather than minutes, eliminating the need for a moisture-retaining palette. Open Acrylics provide the ease of using water as a medium (and for cleaning brushes) with a long working and blending time. The color range isn't as extensive as for Golden's Heavy Duty acrylics, but the fundamentals are included.
Golden Open Acrylics offer an escape from the studio, allowing acrylic artists to experience the warm sun and fresh spring breeze of plein air painting.
This is a professional line of colors and mediums formulated with a unique, relaxed set of working properties that stay wet longer, even in outdoor conditions. Their versatility allows artists to explore a wider range of techniques that rely on softening, shading, glazing, and creating fine detail.
Open Acrylics remain wet on the palette for extended periods of time. This means that color mixes are usable longer, resulting in less waste. Their remarkable working time makes them an ideal choice for many techniques, including plein air painting, portraiture, monoprinting, and screenprinting. They may be used with natural fiber brushes, and also work well with more traditional painting techniques.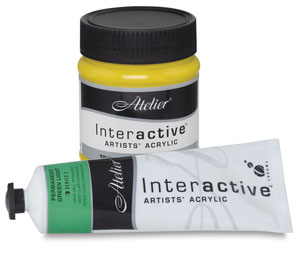 6.Acrylic Paints: Atelier Interactive.
The 'big deal' about these acrylic paints is that, according to the manufacturer, they "dry differently", that they don't form a skin as they dry so you can rehydrate them to keep working wet-in-wet by spraying some water on the paint or using a wet brush. I found I could indeed work back into the paint with a wet brush, which makes blending colors less of an urgency and easier. If you do a lot of blending of colors rather than glazing, consider this brand of acrylic.
Chroma Atelier Interactive Professional Artists' Acrylics are the world's only acrylic paints that can be used for conventional acrylic painting techniques, but when needed, artists can easily take advantage of their unique ability to rehydrate for blending techniques.
Chroma Atelier Interactive can be used for ordinary acrylic painting effects such as overpainting, scumbling, or glazing when used on its own — or for extraordinary wet-in-wet blending effects by simply using a water sprayer during a normal painting session. The next day — or days later — use Unlocking Formula to blend, reveal, or scratch back. The techniques and methods employed are readily accessible to beginners and professionals alike.
Atelier Interactive can be mixed with any other professional artist acrylic, but the paint will not rehydrate as when mixed with other Interactive colors.
Atelier Interactive is a world-class acrylic — archival and lightfast — with exceptional consistency, brushability, color load, and a satin finish. When purchased in 80 ml tubes, Interactive offers one-third more paint than standard 60 ml tubes — and it often costs less.
Whether creating a landscape, doing portrait/figurative work, creating a still life, or exploring abstract techniques, artists who use Atelier Interactive Professional Artists' Acrylics control the paint, instead of having the paint control them!
| | | | |
| --- | --- | --- | --- |
| | | | |
7.Acrylic Paints: Matisse Structure Formula.
Matisse structure paint is a 'normal' acrylic paint that does what you'd expect from a decent artist's quality acrylic. Probably the only unexpected thing about it is that it's made in Australia and has some unique color names (such as Southern Ocean Blue, or Australia Sky Blue). It has a soft, buttery consistency that will hold brushmarks if used undiluted, straight from the tube. It can be diluted with water and/or medium for painting without leaving brushmarks, for glazing, or for watercolor-type techniques. To increase the impasto effect, you'd mix it with impasto or texture medium.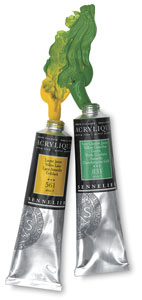 8.Acrylic Paints: Sennelier.
Sennelier are fast-drying acrylics with a consistency that's on the soft side of buttery. The colors are strong and saturated, mixing is easy before of the soft consistency of the paint. The paint spreads smoothly and easily on a canvas. If you like glazing and blending more than textures, I think Sennelier would be an excellent choice.
Since 1887, the Sennelier name has been synonymous with quality, artist-driven innovation, and an unfailing commitment to the advancement of art. Now, Sennelier has turned its expertise, experience, and unerring eye for color to creating a line of artist-quality acrylics.
Sennelier Extra-Fine Acrylique Paints contain only the highest-quality pigments, selected to assure clarity, purity, opacity, and stability over time. A broad palette of 120 colors, most made from a single pigment, includes all the colors that made Sennelier's Artists' Oils famous, including traditional Ultramarines, Earths, Ochres, Cadmiums, Cobalts, and colors based on Quinacridone, Pyrrole, Naphthol, and Phtalocyanine. The line also features four interference and six iridescent colors.
Sennelier maintains a tradition of artisanal fabrication, subject to strict and constant quality control. Each stage of production is rigorously tested in the laboratory.
With a texture that duplicates the rich, creamy working properties of Sennelier Artists' Oils, Sennelier Extra-Fine Acrylique are ideal for working with layers or wash drawings; in combination with other techniques such as pastels, charcoal, or ink; in overlays; and for creating collages and inlays. They can be used outdoor as well as in the studio, and adhere well to non-oily surfaces, including paper, canvas, cardboard canvas, wood, fabric, cement, plaster, and some plastics and metals.
They can be worked with a brush, painting knife, metal spatula, fingers, or directly from the tube to obtain thick lines. Their excellent spreading properties make them easy to mix, allowing for an infinite number of shades without altering luminosity. They are excellent for coatings and can be mixed with Sennelier mediums and retarders to modify their texture, viscosity, transparency, or luminosity. They are low-odor and dry rapidly to create a permanent, insoluble, non-cracking, non-yellowing, water-resistant film.
| | | |
| --- | --- | --- |
| | | |

9.Acrylic Paints: Daler-Rowney
As Daler-Rowney artist's quality paints (Cryla) are generally cheaper than Golden, Liquitex, or Winsor and Newton, I use them if I've got a large area to cover, especially in an underpainting. I've found some colors (e.g. Prussian blue) are a bit darker than other brands, which can be useful. The consistency of the paint is stiff to buttery. (Daler-Rowney's student acrylic range is branded System 3.)
10. Acrylic Paints: Utrecht.
This is an American brand of paint which seems to be distributed only in the US. I first bought various tubes from a Utrecht store in New York because the price was competitive with more familiar brands. The paint is thickly buttery but spreads easily when diluted. The colors are what you'd expect from an artist's grade paint: saturated, with good tinting or covering strength depending on what color it is. While I wouldn't make a special trip to get hold of it, if it's one of the options at your local store, it's worth considering.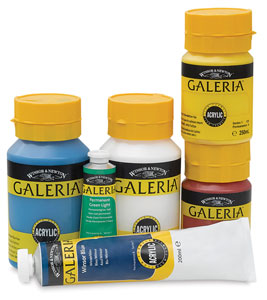 11.Acrylic Paints: Winsor & Newton Galeria Flow Formula.
While I'm a great believer in using quality artist's paints sometimes it's too inhibiting because you're worrying about wasting the paint. Then it's better to use a good student's quality paint that enables you to feel free to experiment, to just see what happens if you do something, to scrape off paint and paint over something. Winsor & Newton's Galeria brand is an affordable or student's grade of paint that has good strength in colors and works easily (though you'll have to add texture paste if you want thick paint as it's quite soft paint). And it doesn't put too huge a dent in your pocket.
Winsor & Newton Galeria Acrylic Color is a high-quality acrylic that delivers professional results, ideal for artists who want good-quality color at an affordable price. The 59 colors in the Galeria range offer a wide spectrum of pigment characteristics to choose from as well as excellent brilliance of color, strong brushstroke retention, clean color-mixing and high performance. Galeria has a smooth, free-flowing consistency, making it easy for the artist to use and mix, while maintaining its body and retaining brush marks.
They brush straight from the tube or pot, making them accessible to beginners. The adhesive qualities and quick drying nature of these acrylics, overpainting is possible within 20 minutes.
Use Galeria Acrylic Colors on many surfaces, including paper, canvas, degreased leather, fabrics, masonite, wood, brickwork, and plaster.
They are not recommended for use on shiny, glossy, greasy surfaces such as glass, unprimed metal, or surfaces painted with oil colors.
Galeria paints are formulated to be compatible with water, other Winsor & Newton acrylic colors, and Winsor & Newton Watercolor Mediums. All colors conform to the European Toy Safety Standard EN71/3.
When diluted, they are suitable for a wide variety of techniques, from stenciling, collage, sponging, and airbrushing, to painting on canvas. Colors are weather and water resistant once dry, making them ideal for use in sculpture and mural work.
Every artist will have their own preferred brand of acrylic paint, based on things such as the colors available and the consistency of the paint, which ranges from extremely buttery to fluid. Rather buy a few quality colors of artist's quality acrylics than a whole range of cheap colors. (Remember, student acrylic paints are cheaper for a reason: they've usually more filler in them, or made from cheaper pigments.) Here are my personal favorites from the brands I've used in paintings.
Pictures and Description by
Marion Boddy-Evans
Painting Guide.
Courtesy: www.about.com